A model of luxurious hull dimensions of 13.70 m in length and 4.25 m in width.
She successfully utilises the highest standard of technical equipment to compliment her maritime characteristics, as well as the required luxury and comfort necessary for the lovers of long cruises.
The easiness of steering and obedience while manoeuvring, as well as the safety and excellent stability on rough seas are the main characteristics which make this model a thrilling experience to behold. The ergonomic solutions applied to the interior equipment ensure the entirety and functionality of both external and internal parts inside the boat. She is one meter longer and one tonne heavier than her predecessor and her more spacious saloon and stern favour long stays on the seas throughout the whole year.
The cabins and bathrooms placed below deck are designed to be both comfortable and cosy, and the distinct maritime atmosphere is achieved by teak. The main cabin is particularly spacious and well furnished. This model has been expanded with another one-bed cabin, in addition to the standard two-bed cabin. The bathrooms both have a separate shower, which additionally contributes to the commodity and cosiness.
This family boat enables a comfortable stay for as many as 6 persons.
Standard equipment
Hull in 3-layer fibreglass
Steel fuel tank
Special sound and thermal insulation for engines
cabinet door
All the equipment that generates noise and vibrations has silencers
Engines are installed on elastic supports
Engine and generator exhaust valve silencer
Floor with fiberglass surface inside the engine cabinet
Perforated metal pannel on the walls of the engine cabinet
Metal safety valve for fuel supply interruption
Fuel filters "Racor"
3 bilge pumps + additional grey water pump
Sea water pumps for deck and chain washing
Transmission of line shafts
2 propellers with four wings in NI-AL-bronze
Propeller axis 2,5" made of inox steel
Underwater exhauste valve
Bow thruster "Sidepower SE 100"
"Bennet" Flaps
Galvanized anode grounding system
Manual emergency water drain pump system
Electronic / mechanical engine controls
Separate groups of batteries in fibreglass cases
Controls and instruments on one console for 220 i 12 V power supply
Black-water tank indicator
Fuel tank indicator
Fresh water tank indicator
Analogue instruments for engine control
Rudder angle indicator
38 liter bolier
Air-conditioning (hot and cold) 40.000 units; autonomous control for each cabin
Navigation lights, Observation light; Horn
RAYMARINE ST 60" unit
Marine watch; Compass; Barometar
Display Radar / GPS "RAYMARINE C120"
Radio VHF + DCS "RAYMARINE RAY 240E" speaker included
Rudder made in teack
Shore power plug with a 20 meter cord
Anchor windlass "Maxwell 2200 W" with 2 control stations
Anchor of corresponding weight with a 75 meter chain, 10mm
Towing winch with 1000 W
Reserve rudder
Electro-hydraulic passerelle 2,60 m
Extending swim ladder
Teack swim platform
Fiberglass seatting bench on cockpit thickened in teak
External stern shower
lights - SUARDI
External and internal LED lights – SUARDI
Electrical switches Vimar
Deck and external finish in teack
Stern mirror in teack
Boat name carved in solid teack wood
Inox steel handrail with the bulwark top in teack or inox
Inox steel bollards and rope guides in teack or inox
Inox steel window frames with tempered and colored glass
Window wipers - clean water usage SPEICH
Steel saloon side slide doors
Saloon doors madee of teack
Internal pannels made of teack
Adjustable table with inox legs and teak top in the saloon
Inside floor made of teack veneer with traces of maple
Teak Persian blinds in the saloon and cabins
Stainless steel mosquito nets
Ocean Air in a master cabin
CORIAN bath and kitchen working board
Dual inox steel kitchen sink
130 l refrigerator + additional refrigerator 200 l
Cooker with ceramic glass cooking surface
Electrical and/or microwave oven
Stereo unit with a CD player
Available power sockets for TV in the saloon
Toilets "JABSCO Luxury Silent"
boat is equipped with a fire extinguish system - CE norms
Additonal options

Radar GPS "RAYMARINE" C120
Radio VHF + DCS "RAYMARINE RAY 240E"
Automatic pilot "RAYMARINE ST 8002"
GPS antenna "RAYMATINE raystar 120"
Radar antenna "RAYMARINE 2 KW"
VHF antenna "RAYMARINE"
Fenders 6+2
The boat is equipeted with afire extinguish system in a saloon and cabinas
Bounding ropes+additional ropes, spare and storm anchor
Life boat for 14 persons
Lifebelts, first aid, flare rocket
2 X Cummins QBS 5,9 - 440 HP, Electronic common rail
ONAN generator 9,5 KW"
Flybridge with complete RAYMARIN "E" series navigation equipement
Inverter 2,5 kW
Webasto heating system
Raymarine ST 70
Raymarine fish sond
JABSCO deck wash system
"Air craft" door
Tender 2,75 m with plastic bottom and outboard engine
Colour LCD TV 20" for the saloon
Dishwasher
Washing-machine
Satellite antenna
Watermaker
Sun catcher pillows
Sun catcher pillows
ALASKA 45 flybridge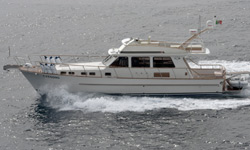 Alaska motor yachts are boats with unquestionable maritime characteristics, modern and high-tech equipment and a recognizable retro look and atmosphere. Their semi-displacement hull, with a strong keel and deep V profile, guarantees full stability in rough seas and naturally ensures safe and calm sailing. Interiors are Croatian-designed, with a traditional nautical atmosphere, dressed in noble teak.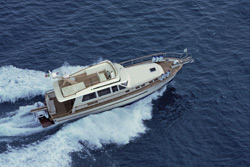 Alaska 45 fly bridge remains faithful to its recognizable simple lines, and the fly bridge fits unobtrusively into the harmonious appearance of this family cruiser. Its main features are proportionality and balance.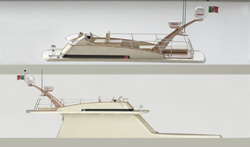 There are two options for the upper part of the railing – with or without Plexiglas – depending on whether the owner wants greater visibility of the navigation station. The fly bridge is teak-plated, and is accessed by a stainless steel and teak staircase.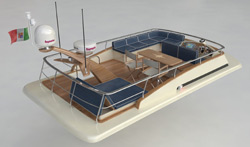 Fly bridge option offers several layouts, which are adapted to the customer's needs and wishes. The "minimalist" layout version is ideal for enjoyment in the open; the helm station is in the fore part, a bench is adjacent to it, and the sun deck can be converted into a comfortable armchair. In the "maximalist" version, there are a bench, a table and chair aft of the helm station, which completes the "open saloon" mood. Along with a comfortable sun deck, it is possible to fit a comfortable sofa set. Both versions offer inbuilt sets, according to the owner's wishes.